This week we had a small group for Sunday Night Blues, but Maurice the singer was with us again. We had a new female participant. It was also the first time with Kyoko on organ! We started off with Mannish Boy to get warmed up. Again Colin on drums and Christian were on bass. Next, we jammed through Sweet Home Chicago. Everyone did their best!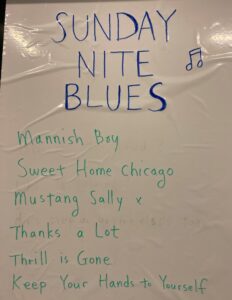 We then played The Thrill Is Gone. Colin and Christian kept the beat slow and steady! And Marcel and Tim had multiple solos. Lucas also had a chance to shine with blazing solos through out! After that we did Thanks A Lot! Everyone enjoyed jamming!
After a short break we tried Keep Your Hands To Yourself by the Georgia Satellites. Maurice led the group on drums and also sang along while playing! At the end with Christian on drums we played Mustang Sally. Thank you all for coming! See you next week!